Hot Selling New Condition CE/ISO9000 Approved dry food packing machine
Descripition of Food Packing Machine
1. Flour storage
2. Flour lifting
3. Flour measuring
4. Flour mixing
5. Alkali mixing and measuring
6. Ripening
7. Compound pressing
8. Curing
9. Continuous pressing
10. Shaping
11. Steaming
12. Cutting
13. Dividing
14. Fried
15.Cooling
16.Conveyor
17. Packing
18. Lifter


Layout and process flow diagram of Fried Instant Noodles Production Line:
The fried instant noodle production line adopts frequency conversion speed regulator, electro-optical tracking system and programmable logic controller to realize synchronized coordination of the whole production line. The number of cutting is visible and the weight of one piece of fried instant noodle can be adjusted without having to shut down the machine. The equipment has an automatic frying temperature controlling function. The oval paddle double axis double speed flour mixing machine allows for a more uniform mixing of the powder and water because more water can be introduced. The noodle feeder machine uses W-model double boilers to ensure the ripening uniformity of the pasta. Nine cold hardening alloy rollers are installed in the pasta roller machine. After the noodle is well steamed, it will be soaked in seasoning liquid to obtain flavor. The contact area of the production equipment with the noodle applies nontoxic stainless steel which fits the national food hygiene and safety standard..
Features
1 .High automation ,PLC controlled
2. High efficiency ,saving man power
3.Capacity: from 2.5-20tons per 8hours(based wheat flour consumption)
4.Made Material :main used SSL
5.Easy operation, repair and maintenance
Sample made by our instant noodle machine
Picture of Food Packing Machine
More Produsts Show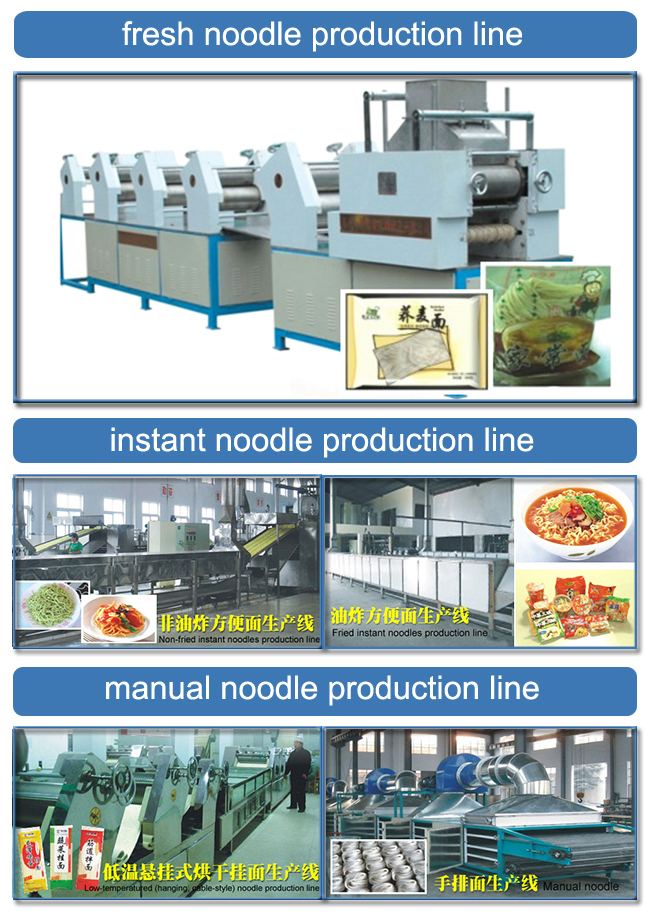 About Us
♦ Company
Wuhan G-Young Industry & Trade Co., Ltd. is a professional manufacturer and export trader. Our main products are a variety of machinery and electronics,we are producing kinds of noodle making machine by ourself,our partners are producing many kinds of packing machine for food,tea leaf,animal feed,etc, milk/drinks producing machines, bread making machines, tomato paste processing machine,rice processing machine and other related food machines,wheat flour producing machine,also some types of chemicals,food additives.Moreover we provide other partner's machinery including cement producing machines,cement packing machine, steel making and treatment machines,etc
Certification
Our Services
Relying on professional manufacturing and exporting talents, extensive exporting experience and more exporting channels, we can try our best to provide the best services and products for the overseas customers.
Our Market
Our main markets are India and Nepal of South Asia and Nigeria of Africa,Indonesia,Czechic republic of Europe,Syria,etc.
Contect
Alibaba