Elight beauty skin personal care spa equipment HS 330C by shanghai med apolo medical technology
Greeting friend! Before you go ahead, pls kindly note that we Shanghai APOLO especially Welcome 3 kinds of business relationships:
a. Dealer
b. Distributor
c. OEM/ODM
End-users, like clinic,spa,hospital, who purchase the equipment only for own-use, we appreciate that you are interested in our equipments, but please contact with our distributors in your country,if you don't know we would tell you how to contact.
Elight beauty skin personal care spa equipment HS 330C by shanghai med apolo medical technology
Specification:
1) Wavelength:420/510/560/640~1200nm(standard) 480,585,690,755-1200nm(optional)
2)Spot size:12*35mm,15*50mm standard 12*12, 12*50, 15*15, 15*35(optional)
3)Cooling system: Air&water cooling circulation&treatment head with semiconductor cooling
4) IPL light Energy:10~60J/cm2
5) Pulse Duration: 2~15ms
6) Pulse Sequence:1~15 pulses
7) Delay time:5~50ms
8) Intergrated skin cooling:-4~0
9) Operation interface: 8" TFT True color LCD, User-friendly interface design, English and another native language selection
10) Power:1,600W
11) Working period: Continuously working for 6~8 hours
12) Prepaid light shots: Built-in IC card function
12) Power supply:100/110V,50~60HZ OR 230~260V, 50~60HZ
13) Dimension: 62cm*53cm*96cm(L*W*H)
14) Weight: 60kgs
15) Hand piece: 2 hand-piece
How it works
E Light(IPL and RF)combines three advanced technologies: Bipolar Radio Frequency + IPL +Skin Contact Cooling.
When the three are united in one treatment, wonderful treatment experience and result can be
expected. The energy of Radio Frequency can reach the middle and deep layer of the skin and heat up tissue, thus, lower energy is applied during the IPL treatment. Uncomfortable feeling during the IPL treatment will be decreased significantly and better result can be expected. In addition, cooling system involved in E-light can also ease the uncomfortable feeling.
The absorbing of the energy of radio frequency is not concerned with melanin. So, the E-Light
treatment can get good result on the soft or thin hair so as to decrease the risk caused by traditional IPL treatment.
Application
Skin tightening, skin lifting, improves flexibility and tone of skin; Skin rejuvenation: fine wrinkles, pigments, freckles, vascular lesions (telangiectasis)
skin whitening, change large hair pores;
Hair removal;
Acne removal: improve the situation of oily skin; kill acne bacilli.
Advantages:
Designed according to abundant clinical data worked out by many famous clinical doctors;
RF energy can be applied to any type of skin;
Used in deep color skin or light color hair;
Combining with IPL, RF decreases burn risk and uncomfortable feeling significantly; No side effect;
Special designed ISL device can monitor the skin temperature to ensure a safe treatment;
Easy to operate: The handpiece tip is smart and can be applied on the skin directly
Filters:
Company Advantages:
a. Scale: Our Company is one of the most leading manufacturers in China.
Apolo Registered Capital is RMB 2,000,000 which is much more than most of other smaller manufactures in China. Pls check our alibaba website to checking the Trustpass profile.
Most of other smaller factories capital is only between RMB 500,000~1,000,000, you could check their alibaba website. Alibaba Website is a well-known B2B company in the world, so the information offered by factories should be approved by Alibaba.
Only true information could be approved, so you could have no doubt on the data.
If you still have some doubt, you could require factory to send you their Registered certificate to confirm the capital whether true.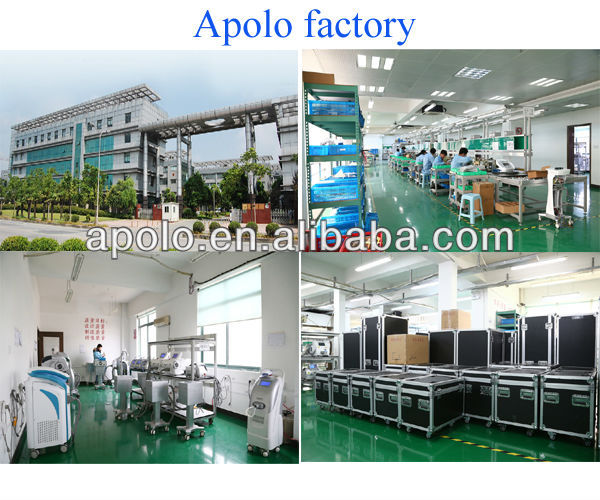 b.Real Manufacturer instead of Trading company
As Apolo is real manufacturer instead of trading company, our price is much competitive than Trading company. Also we could offer after-service in-time but trading company could not. Welcome customer to visit Apolos factory and others, then you would find out who is real manufacturer, whos trading one.
Certificate
(C.1) ISO 13485
Our company have passed ISO 13485 system. Very few factories in China have passed ISO 13485, most of them only pass ISO 9000/9001.
As ISO 13485 is an international approval for recognizing the Quality&Management system of Professional Medical manufacturer, but ISO 9000/9001 is only for common factories instead of professional medical factories, so ISO 9000/9001 is easy to pass, ISO 13485 is hard.
Without ISO 13485, the environment and quality of these factories would be not recognized by developed countries.
C.2) CE 1023
Our equipment have got CE 1023 medical approval. Pls be noted its a medical approval, not like common CE approval. Very few factories equipment have got CE 1023 medical approval, as CE 1023 need more strict test and very hard to pass.
With other common CE approval, you could only sell equipments to beauty salon in Europe.
With our CE 1023 approval, you could not only sell the equipments to beauty salon, but also to hospital and clinics in Europe.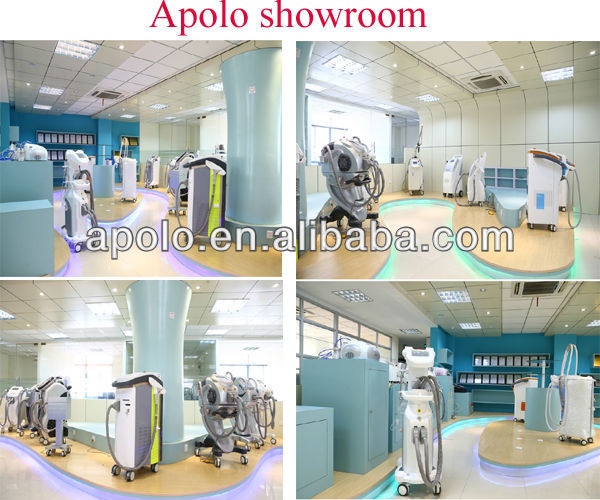 d.ODM/OEM Free on design
We're one of the most leading manufacturers in China and could offer OEM/ODM without any design fee
We provide you the best quality. Why not sell the machines with your own branding. With your own brand LOGO on it.
After training;
When you buy our products, you should be after trained to use the product for the treatment. We have user manual, DVD and online service to teach you how to use the machine.
Taiwan Team and American technology:
The consistently upmost quality of our products are based on advanced American technology, excellent R&D teams from Taiwan and Mainland China, comprehensive QM complied with ISO 13485 and 93/42/EEC standards.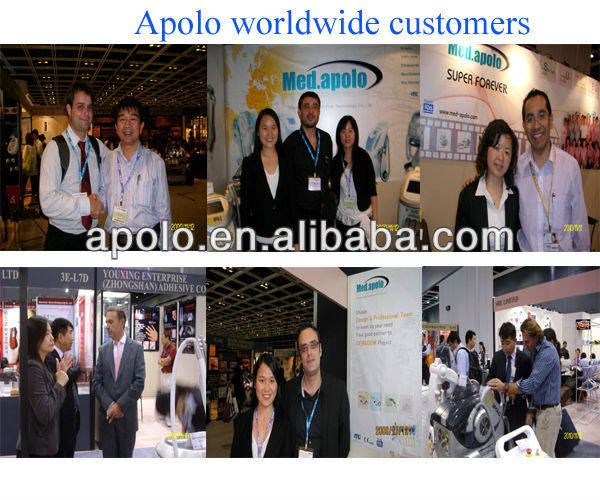 The advantage of our company is that we can give best quality; we are certified by FDA, CE 1023, and ISO 13485. Always check the company's certificate on related official websites, documents shown can also be fake.
The world market is inundated with poor quality beauty equipment. Anyone can order a cheap machine on the open market today, only to find that the equipment doesn't perform as advertised, or even worse. In other words, their investment turns out to be a dud!
We promise for our quality, our product's quality is our pride and we live for it. Our products are sold to customers after proper testing on animal models then human volunteers and before sending to customers engineers check it again. We also offer competitive price for our products.
As these are used on humans so quality must be good ... so please don't become a victim of cheap companies with machines being out of order in months and risking the safety of client.
Shipping method:
This unit will be shipped from the manufacturer warehouse overseas.
1).Ship by Express to door needs 4-5days. (DHL.TNT.UPS.FEDEX.EMS)
2).Ship by Normal air to airport needs 5-7days.
3). Sea may take around 1 month
Please allow several days for manufacturer to process your order. The engineers will fully test your new machine for quality consistency before shipping out.
If you have any question then please contact me, looking forward to talk to you.
Regards,
Dr. Jawad Khalid (Michael)
Shanghai apolo medical technology
Company Address: 1~4F, Building A, No.388, Yindu Road, Xuhui District, Shanghai, China.
Website: www.med-apolo.com, http://apolo.en.alibaba.com/
Gmail: smartseeker89
Skype: smartseeker89
Yahoo: smartseeker89
Cell:+86 13817960397 TEL:86-21-34622842 (8033)
FAX:+86 021-3462 2840