Product Description
Welcome to Boyi Art!!! Our products are popular all aroud the world!!! We are professional manufacturer of simulation dinosaurs in China...
BYYS--Brachiosaurus Sports&Entertainment Vivid Dinosaur
Product Name

BYYS--Brachiosaurus Sports&Entertainment Vivid Dinosaur
Brand
Zigong Boyi Art
Size

Customize any size (2-50m)

Color

Simulation color or customized color

Movements


1.Mouth open and close with synchronized roaring sound,
2.Eyes blinking,
3.Head moving up-down, left-right,
4.Tail swaying,
5.Body moving up-down, left-right.
6.Belly breathing,

7.Accept customized movement

Accessories


1.Artificial rockery as cover for controller box and spearker,

2.Controller box,

3.Speaker,

4.Infrared ray sensor,

5.Spare parts

Certification
CE and ISO 9001

Rated power

110-230 voltage
Package

Inner packing: air bubble film+pp film

Outer packing: plywood case / air case/ depends on customers' choice

Delivery Time

25 days or depends on the quantity of order.
Technics
All handmade

Application Locations

1)playground, amusement park,

theme park, dinosaur park, zoo, resort, aquarium,




2)science and technology museum,

educational equipment,
3)festival exhibition, advertisement, events,
4)outdoor or indoor equipment,


5)shopping mall, square, resturant and so on

How to Put When Don't Use

1.Hang up on the frame steel we offer.




2.Keep it into the package case when you don't use it for a long time

After-sale Service

1.24 months, excluding man-made damage

2.After the warranty, we can provide lifelong paid repair or service support

Product Details:

Production Process: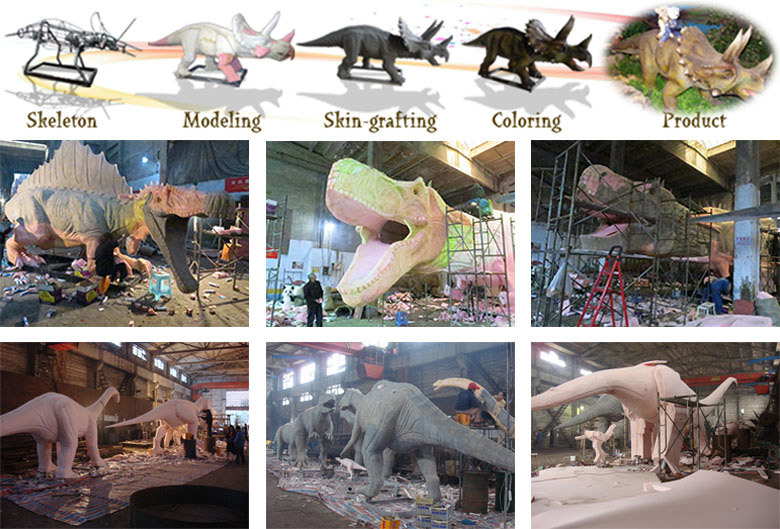 Controller Description:
1.The power switch - control the entire controller (red button)
2.Power cord - provide power to the controller and the product
3.Data transfer code- transfer data between the controller and the dinosaur.
4.Infrared switch - Start all functions (effective distance of 90 °, 5 m)
5.Speaker interface - Connect the speaker and provide sounds
6.The fuse case - when the product work overload, and fuse burned, the corresponding indicator lights, suggesting that the fuse has been burned out
Our Services
Installation: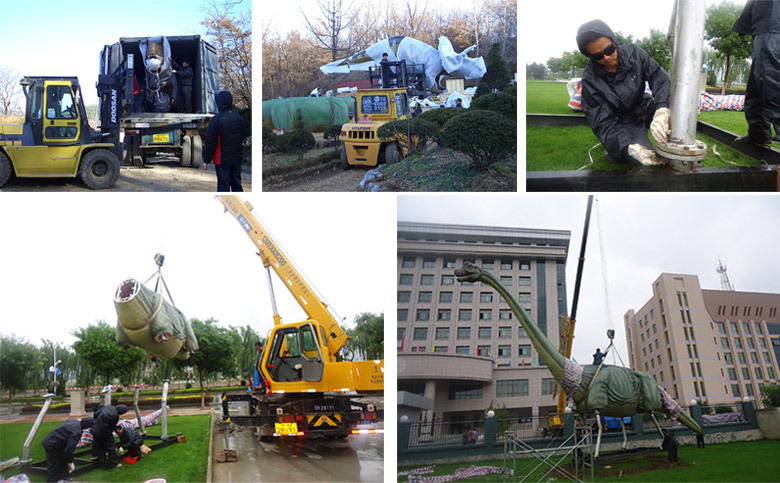 Two ways of installation for customers to choose:
1.Customers do the installation themselves according to instruction book, and we provide remote guidance.
2.We can dispatch professional engineers to assist installation if you need.
Design Service:
We can provide scene design, park design, museum design, etc. Whatever ideas you have, we can bring it into reality!
FAQ
Customer: Can your dinosuars or other products be customized?
We Boyi Art: Yes. Our dinosaurs' species, sizes, colors, movements and sounds can be customized as your requirements. What's more, other simulation animals or dinosaur fossils can also be customized.
Customer: What about the transportion?
We Boyi Art: It depends on your requirement. We have cooperated with some shipping companies, if you need, we can help to ship the products from our factory to your country, and if you have cooperated shipping company, let them ship the goods is OK.
Customer: What about the after-sale service?
We Boyi Art: Guarantee period is 24 months, excluding man-made damage, after the warranty, we also provide life-long paid repair service.
Customer: When we receive your dinosaur, is there any other accessories we will get?
We Boyi Art: Of course, we will send some accessories together with each dinosaur, such as: a controller,
a power cord, an infrared ray sensor, starting switch, a loudspeaker, artificial rock as cover for controller box and speaker, a back-up fuse control and an instruction book.
Contact us:
If you are interested in our products, or if you have any questions, please do feel free to contact us!